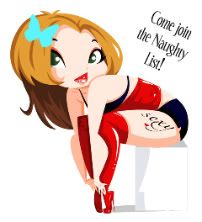 Oooh, I love that art so much!
This Week's Prompt: Naughty, Non-Sex Toy Items!
This week, just list off whatever stuff you've used to get off that hasn't been a 
sex toy
. (People don't count, since they're not items; they're beings.)
The handle of a plastic ice cream scoop

I had a hairbrush that the handle broke off of. The handle was hollow, so I filled it with water and used it as an ice dildo. (I used it for months. Probably still would if I hadn't lost it.)

Bar of soap (surprisingly good!)

Electric toothbrush (meh)

Shower head (did nothing for me)

Hairbrush handle, after having been spanked with said hairbrush (Wow!)
Huh. Short list. Maybe I'll remember more later.