Packing strap by Aslan Leather
Material: Leather / Spandex
Safety:
Summary:
I'm bedroom genderqueer, not trans, so take my experience with a grain of salt. This is a convenient and easy strap for displaying a packer dildo in the bedroom to give an almost-naked look. As a full-time packer strap, I can't recommend it. Anything worn at the crotch should be washable. Also, it doesn't feel to me like it would stay in place well enough for full-time use. If you want this for the bedroom, I highly recommend it. For full time packing, look elsewhere.
Pros:
Perfect fit for Mr Right
Easy to wear
Almost-nude look
Cons:
Doesn't hold Mr Limpy very well
The crotch is a silly place for leather
Not sturdy

Click here to read the full review.
Verdict: 4 out of 5 stars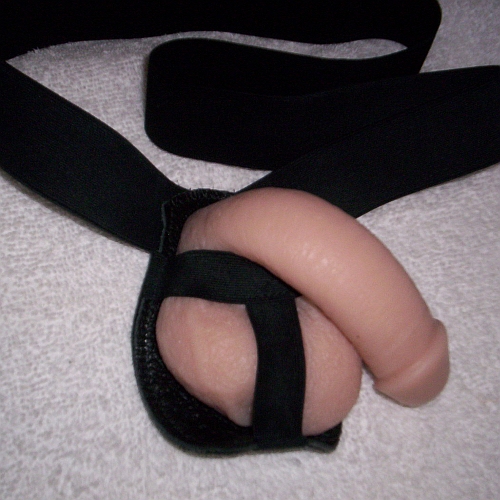 It fits great with the Mr Right packing dildo.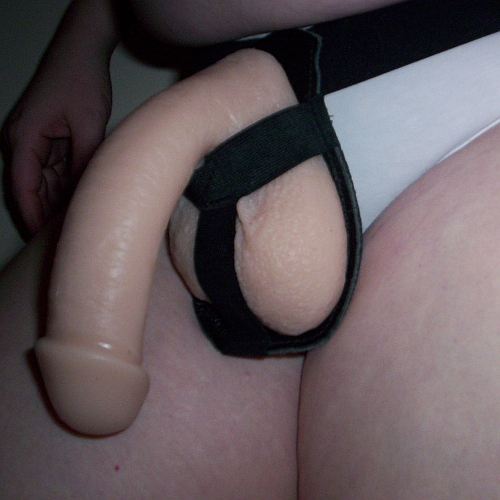 Take away the knickers, and I love this look!
Mr Limpy Small does not fit as well in this strap.
There are lots more photos to look at on
the product page
. Scroll down near the bottom to see them.